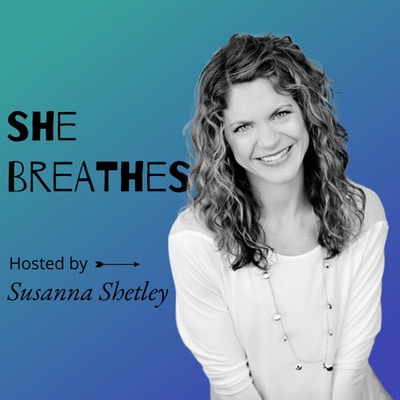 She Breathes is a weekly podcast that aims to empower women from every direction. On this show, we'll focus on the parts of life that help us breathe more deeply. From love, laughter, relationships, mental health, physical health, and everything in between, we'll explore ways to up-level and create a life that's energizing and meaningful. Every now and then we'll get a little woo and talk about the law of attraction and manifestation. As Mary Oliver said, "What is it you plan to do with your one wild and precious life?" Let's work together to answer that question.
Below are summaries of the first six episodes. For more episodes, click HERE to listen on Spotify and HERE to listen on Apple. She Breathes is available on all other platforms as well.
Season 1
Ep1: The Meaning Behind She Breathes
Breath is the force of life. When we breathe deeply, life is more enjoyable and fulfilling. In this episode I tell listeners why I created this podcast and the meaning behind the title. I also discuss my personal history with anxiety and 9 things that help me breathe more deeply, metaphorically and practically. Click HERE to listen on Spotify. The show is also available on all other platforms.
Ep2: Hot Topics in Skincare for 2023
Whether we're 23 or 43 and whether it's acne or wrinkles, most of us worry about our skin. My sister, Savannah, is a brilliant esthetician. She has been passionate about skincare since pimples first started popping up on our faces when we were adolescents. In today's episode, she and I discuss hot topics in skincare including navigating the world of serums and eye patches, morning vs. nighttime routines, caring for your skin in the winter months, the importance of seeking a professional, and psychodermatology, which is the connection between skin and our minds. Below are specific topics with the time stamp in case you want to revisit a particular part of the conversation. I plan to feature Savannah and her vast knowledge periodically but until then, be sure to follow her on Instagram at skin_by_savannah. Click HERE to listen on Spotify. The show is also available on all other platforms.
Ep3: 5 Actionable Steps for a Fantastic 2023
Today's episode discusses the hope and anticipation surrounding a new year. I also tell you why I don't like surprises and give you a little auditory taste of a delicious cookie recipe I made over the holiday weekend. Lastly, I offer 5 actionable steps to ensure you have a fantastic 2023. Together, we can obtain our deepest desires, get our bodies back to a healthy place, disregard the opinions of others, and lean into the law of attraction, which doesn't only apply to romantic love interests. Most importantly, I encourage you to stop and breath deeply, taking time to inhale the freshness and beauty of new beginnings. Happy New Year! Click HERE to listen on Spotify. The show is also available on all other platforms.
Ep4: Secrets to Living a Longer Life
I want to live until I'm at least 100-years old. I want to see flowers blossom, snow fall, kids laugh, the sun rise and set, and the taste of delicious food for as long as possible. I want to be with my children, grandchildren, and great-grandchildren. I want to travel and see so many parts of this beautiful earth. Also, I believe our souls move on past this lifetime. It's our responsibility to take care of them and help them grow while they are in our bodies.  Recently I learned about the Blue Zone phenomenon. The Blue Zones are five regions around the globe where people live well past age 100. These folks are called centenarians. On today's episode, I tell you a few stories about why elderly people are my crystal balls and also offer 'The Power of 9' which are the 9 things the people in Blue Zones do to ensure a long, happy, purposeful life. You can learn even more by following Dan Buettner on Instagram. He is the founder of the Blue Zones. Click HERE to listen on Spotify. The show is also available on all other platforms.
Ep5: When the Universe Throws Curveballs
I had a different episode recorded for today, but then the universe threw a curveball. I'm getting better at recognizing curveballs and not letting them derail me completely. In today's podcast I share what that curveball was/is and why I'm pushing through it anyway. As content creators, we often offer the beginning and ending of neatly packaged stories, but sometimes it's helpful to give a glimpse into the messy middle of things. Click HERE to listen on Spotify. The show is also available on all other platforms.
Ep6: How Worrying Breeds Chaos + Powerful Signs From the Universe
Gabby Bernstein says, "Worry is a prayer for chaos." I learned that firsthand this week. I also learned how to read signs from the universe and how these signs can help us get through challenging situations. Today's episode focuses on this very trying week and my son's worrisome bacterial skin infection. I also talk about how love and unique signs from the universe calmed my fears and encouraged me to be a source of strength for my child. This week was a huge reminder that what we focus on we create more of. Click HERE to listen on Spotify. The show is also available on all other platforms.